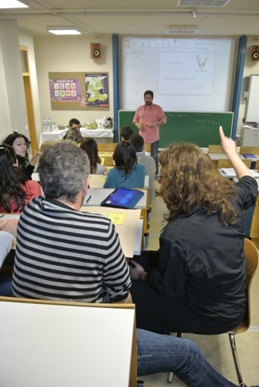 In Greece in the first twelve months of the project, EA carried out several meetings and workshops with twelve teachers in the school of Ellinogermaniki Agogi, involving a group in the primary and one in the secondary sections.
The project team has also made contacts and disseminated the project with other school communities in the wider Athens area and in several other regions of the country, making use of EA's extensive network of collaborations in the world of education.EA has also been building a wider community of interest in Greece, including educators and a range of professional and academic experts.
In this context, a milestone event of the visionary phase of the C2Learn participatory process in EA was a full day cumulative workshop held on March 27, 2013. The expert focus group comprised seven professionals and researchers in the areas of learning, games, youth, and creativity together with six C2Learn researchers, as well as several of the EA core group teachers.
In addition, Greece hosted the bundle of workshops constituting the C2Learn Summer School, which was organised by EA with contributions from UEDIN, OU, NCSR-D, UoM, and BMUKK. A group of 26 teachers from across Europe (including Austria, Croatia, Cyprus, Estonia, Finland, Lithuania, Poland, Portugal, Romania, Slovenia, Sweden, Turkey) gathered in Crete in early July 2013 and tried out aspects of the project including application of the core theory of the project, the scenarios, game options, the tools developed, as well as ways of peer-reviewing co-creativity.